REGISTRATION
NEW STUDENT REGISTRATION:
New students to the district will need to provide the following forms at the registration appointment:
Proof of Residency: Two proofs of residency are required.

Certified Birth Certificate

Illinois Transfer Form from Previous School
---
NEW STUDENTS - CALL YOUR SCHOOL'S OFFICE TO MAKE AN APPOINTMENT TO REGISTER YOUR CHILD:
Wesclin High School - (618) 224-7341
Wesclin Middle School - (618) 224-7355 - August 2nd and 3rd from 7:30-4:00 by appointment only. Appointments can be made by calling the Middle School at 224-7355 ext. 1101 or emailing nielsenje@wesclin.org.
New Baden Elementary School - (618) 588-3535 - Call of appointment on July 31, you can email me at jahnket@wesclin.org.
Trenton Elementary School - (618) 224-9411 - Call for appointments on July 31, or you can email me at matheisj@wesclin.org. New Student Registration will begin August 3, 4 and 7.
---
PAYMENTS INTO LUNCH ACCOUNT
mySchoolBucks.com® is an on-line system that will allow you to make deposits into your student's school meal accounts, check your child's lunch account balance, and even view daily transactions on the account to see what your child is eating.
mySchoolBucks offers…
• Safety. Virtually eliminates worries about your child carrying money to school.
• Convenience. Make payments when it's convenient for you, 24 hours a day, 7 days a week!
• Control
- Receive low balance email reminders (set your own limits!)
- Monitor your student's account balances online.
- View your student's cafeteria purchases.
• Efficiency. Make your payments for all your children in one easy step, even if they attend different schools in the district.
• Flexibility
- Make payments using your VISA, Master Card, Discover credit/debit cards or electronic check.
- Option to have payments made automatically each month.
- Deposit confirmations sent directly to your email account.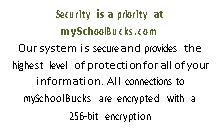 Money deposited into mySchoolBucks.com will usually arrive at the school by the next morning. You can set your low balance settings to remind you when it's time to add more money, or set up recurring payments so the system will automatically add money to the account when your balance reaches the threshold you set.
Getting started is easy! Visit www.mySchoolBucks.com and begin using the "REGISTER FOR A FREE ACCOUNT" link on the right side of the page. A confirmation email will be sent to the address you provide….simply follow the link included in that email and your registration will be complete. Once you log in, you can add as many students as you'd like by entering each student's school, their name and date of birth.
---
---
OTHER SCHOOL FORMS
HS Picture Packet
High School Yearbook
Senior Picture Information
---
RETURNING STUDENT REGISTRATION:
2023/2024 online registration will open on July 14 and run until July 28. All students must complete the registration process. To start the registration process, a link will be emailed to the student contact from Teacher Ease stating that registration is now open for the new school year. Please click on the link to begin.
---
SCHOOL SUPPLY LISTS
TRENTON ELEMENTARY
NEW BADEN ELEMENTARY
WESCLIN MIDDLE SCHOOL
WESCLIN HIGH SCHOOL
Teachers will advise students what is needed as school starts.
---