Suicide and Depression Awareness and Prevention
7.290 Suicide and Depression awareness and prevention
7.290 AP Adiministrative Procedure for Suicide and Depression Awareness and Prevention
Sydney Perez
Mrs. Sydney Perez is one of our social workers for Wesclin, she works with the Middle School and High School students. Previous to her employment with Wesclin, she worked in community based jobs providing support and therapeutic services to homeless, runaway, and at-risk youth, as well as, youth placed in a residential hospitalization setting. She holds a Master's Degree from McKendree University in Clinical Mental Health Counseling and is trained in AF-CBT, Motivational Interviewing, and is trauma-informed. She enjoys working with adolescents and teens to help them navigate life and problems that may arise.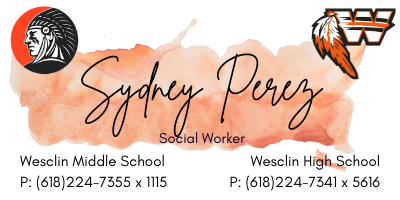 Katie Wilke
Mrs. Katie Wilke
is our elementary school social worker. She works at New Baden Elementary and Trenton Elementary. She has been employed with Wesclin School District since 2019, and graduated with a master's degree in school social work from SIUC in 2016. Katie works with all students in grades Prek-3 by teaching social emotional lessons in classrooms weekly, and is available to work with students individually or in small groups to help with specific concerns when needed. Katie loves to collaborate with parents and teachers to find ways to help and support students.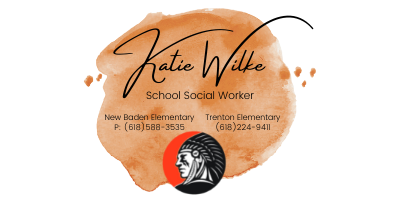 What does a School Social Worker Do?
School Social Workers serve as the liaisons between the school, home, and community. We help students who are experiencing problems that interfere with their academic or social adjustment.

School Social Workers:

Provide individual and group counseling for all students.
Address topics such as depression, self-harm, anxiety and stress, grief, anger management, drugs and alcohol, family conflict, divorce, peer-related issues, social skills, and behavioral issues.
Provide crisis prevention and intervention.
Actively participate in Individualized Education Plans (IEPs) and Child Review Team (CRT) meetings.
Consult and collaborate with faculty and administrators regarding students.
Connect students and parents to outside community resources.
Participate in policy development pertaining to attendance and discipline
Resources/Links
Anxiety and Depression resources
Anxiety & Depression Association of America
National Alliance of Mental Illness Health
National Center for Posttraumatic Stress Disorder
To Write Love on Her Arms
National Suicide Prevention Helpline
Boys Town National Hotline Support -
Suport for young people and families going through difficulties:
800-448-3000
SEXUAL ASSAULT
Illinois Coalition Against Sexual Assault
National Sexual Assault Hotline
Ride Sharing Safety/Sexual Assault Awareness - a comprehensive guide about sexual assault in ride sharing services, how to stay safe and options in case it happens.

DOMESTIC VIOLENCE
Illinois Coalition Against Domestic Violence
National Domestic Violence Hotline
ABUSE
Illinois Child Abuse Hotline
National Sexual Assault Hotline
SUBSTANCE ABUSE
Substance Abuse and Mental Health Services Administration
Illinois Helpline for Opioids and Other Substance Abuse
ADOLESCENT ALCOHOL ABUSE
Alcohol Abuse Prevention
Community Outreach Information
AlcoholRehabGuide.org, which is an organization dedicated to providing extensive and reliable information on the various aspects of alcohol abuse and addiction.
MENTAL HEALTH
Crisis and Referral Entry Services (CARES)
Illinois Call4Calm Text Line
Crisis Text Line
Disaster Distress Helpline
Other
National Runaway Safeline
Refer A Student to Social Work Services
Middle and High School
Elementary Schools