Athletic Booster Officers and Duties
2021-2022 BOOSTER CLUB CONTACT LIST
President-Dawn Trame
Vice President- Brad Oster
Treasurer- Doug Mueller
Secretary- Jessica Simington
Email the Boosters at :boosterpres@wesclin.org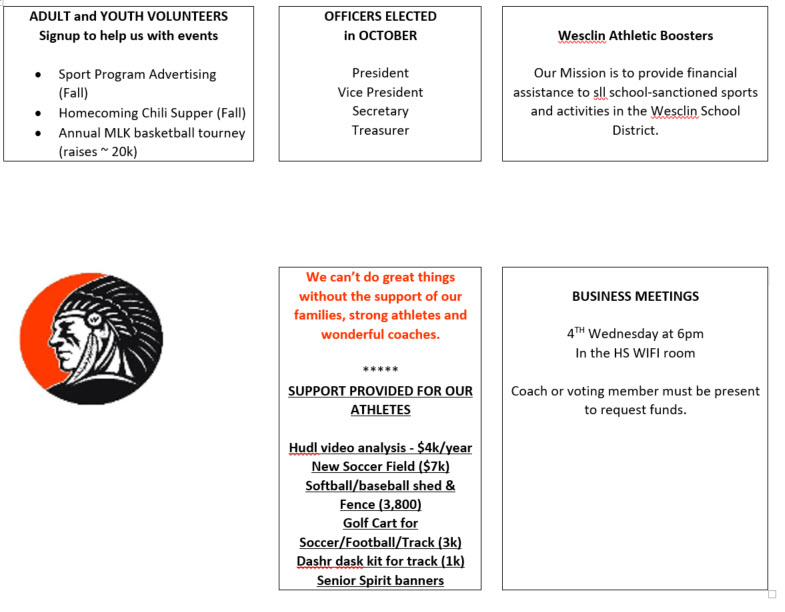 1) OFFICES AND DUTIES
a) President
i) Preside at all of the Booster Club meetings.
ii) Serve as contact person between the programs supported, the Booster Club and the schools.
iii) Shall be able to sign checks and have full access to Booster Club€ accounts with the Treasurer.
iv) Call special meetings if necessary
v) Be advised of all business pertinent to the Booster Club. The President must sign all contracts entered into by the Booster Club. The President may only sign said contract upon approval by a majority of those in attendance.
b) Vice President
i) Shall preside in the absence of the President or Secretary at all of the monthly meetings.
ii) Shall provide organizational assistance for activities.
iii) Shall assume the duties of the President if and when the elected President is no longer able to perform in that capacity.
c) Secretary
i) Record and protect all correspondence of the Booster Club.
ii) Shall present the minutes at the monthly meetings.
iii) Shall provide the President with a copy of the minutes from each meeting on a timely manner.
iv) Shall be responsible for records of attendance by the programs supported by members and/or family members and Booster Club members at fund-raising events and Booster Club meetings.
v) The Secretary shall prepare all meeting agendas and try to e-mail them to all members.
d) Treasurer
i) Shall keep a written record of all club assets
ii) Shall maintain a petty cash fund of $100.00 that will be used as change at fund raising activities and for minor expenses.
iii) Shall maintain and present an updated record of the Booster Club's accounts.
iv) Shall present the financial report at each meeting. In addition, will provide a copy of the report for the President, Secretary, and for general approval.
v) Responsible for the monetary affairs of the booster club.